Fill out the form below to receive our advertising rates and find out how to get your sweepstakes featured on the homepage of SweetiesSweeps.com.
Sweeties Sweeps Site Stats
Last updated August 2017
Email Subscribers: 27,000+
Unique Visitors by Month: 150,000 to 200,000 on average
Page Views by Month: 1 to 1.5 million on average

Average Visit Length:

8:00 minutes
Alex Ranking: 140,000 (Global), 30,000 (US)
Sites Linking In: 188
Twitter Followers: 18,000+
Facebook Fans: 65,800+
Facebook Group Members: 8,000+
Pinterest Fans: 3,900+
Snapchat: 1,400 (follow me sweetiessweeps)
YouTube: 600
Instagram: 753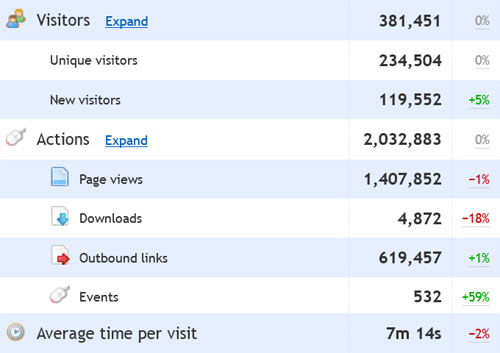 Featured in articles on MSN, CareerBuilder, AOL, CNN, and on Tyra Banks TV in 2009. See Media Page for full details. I wrote for LifetimeTV for all of 2009 to help them establish their Sweeps Hunter blog.
What Do Sweeties Sweeps Readers Look Like?
91 of out a 100 are female
56 out of 100 are ages 25-45
100 out of 100 are from the US
The average income level is $19,000 to $60,000
32 out of 100 are Stay at Home Moms (SAHM)
22 out of 100 work Full-time
16 out of 100 are Retired
30 out of 100 Completed Some College
23 out of 100 have a 4-year College Degree
51% of visitors found this site from Google
Email Greg at greg@sweetiessweeps.com to find out about our advertising options or fill out the form below.