Quickly is giving away 37,000 Domino's gift card and your chance is coming up! Sign up and then share your unique link to earn time for an early head's up. You will get a text when the giveaway is going live. The more referrals you get, the faster your notification by text will be.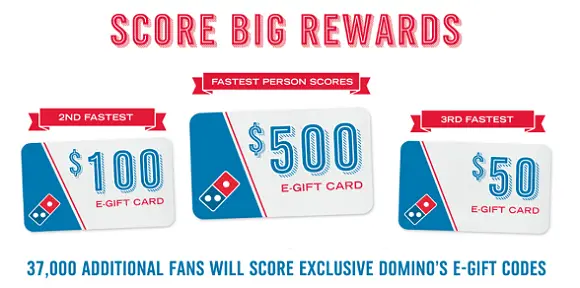 Click Here to Enter | Official Rules
Official Rules: open to US, DC, 18 and older.  At some point between now and July 10, 2017, the Quikly will go live. One entry per person.
This is a Quikly, which means the more quickly you act, the more value you get. Just click the "I Want In" button, and follow the instructions to opt-in (note: all opt-ins must confirm an eligible US cell phone number to participate). Once you've opted-in, you're in! When it goes live they'll send you an email or text (depending on your preference selected at opt-in) letting you know the Quikly is live. You can receive 3 minutes advanced notice that the Quikly is about to go live for every person who opts-in from your referral through the referral page. Be one of the first to claim the Quikly once it goes live. The more quickly you claim, the greater the value you'll get.
Domino Quikly Prizes:
Fastest person: Five $100 Domino's Pizza e-gift cards
2nd fastest person: $100 Domino's Pizza e-gift card
3rd fastest person: $50 Domino's Pizza e-gift card
4th fastest to 2,003rd fastest person: $10 Domino's Pizza promotion e-gift code
2,004th to 17,003rd fastest person: $5 Domino's Pizza promotion e-gift code
17,004th to 37,003rd fastest person: $4 Domino's Pizza promotion e-gift code
The Grand Prize (five $100 gift cards), first (one $100 gift card) and second (one $50 gift card) prizes do not expire. All other prizes are promotion e-gift codes which are valid through July 10th, 2017 at 11:59 pm ET.
To Redeem on Dominos.com:
Click "Yes, I have a Domino's Gift Card or Promotional Card" when you're on the checkout page
Enter your gift card/code number & PIN
Click "Place your order"
Disclosure: this listing
may contain
affiliate or tracking links, which
are not referral links
. Read about our
policies
for more details.