Win Free Bays English Muffins. Wanna beat the morning blahs? Wake up with the BAYS Pop Quiz on Facebook. Once a week in the morning, BAYS English Muffins will help get your brain – and your taste buds – moving in the morning, so you can start the week off right. Not only will you wake up wiser, but could win 12 free packages of BAYS English Muffins to pop into your toaster.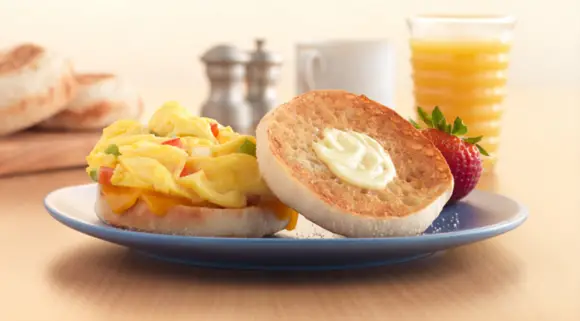 Eligibility: US, DC, 18 and older (19 Alabama, Nebraska)
Entry Dates: January 30, 2017, and end on or around 11:59:59 p.m. CT on December 31, 2017
Random Drawing: Each Monday immediately following the close of the previous Weekly Entry Period
Facebook Entry Form | Official Rules
How to Enter: Once a week Bays English Muffins will post one Pop Quiz question. Questions will be in True/False or multiple choice formats, and will consist of word play, brain teasers, fun facts, numbers games, etc. If you enter in accordance with these Official Rules and provide the correct answer to the question of the week, you will receive one entry into the random prize drawing that corresponds to the week in which your entry was received. The start date and end date for entry will vary from week to week. For purposes of this Sweepstakes, a "week" is defined as beginning on a Monday at 12:00:00 a.m. CT and ending on the following Sunday at 11:59:59 p.m. CT, or at 11:59:59 p.m. CT on end date stated in the weekly question post on Facebook, whichever is earlier.
Bays English Muffins Question of the Week & Answers:
January 30: Who said, "Early to bed and early to rise makes a man healthy, wealthy and wise"? Ben Franklin
February 8: How many words can you make from the word "therein" without rearranging any letters? 10
February 16: What comes after trillion? Quadrillion
February 24: What movie won the Academy Award for Best Picture in 2015? Birdman
March 4: Who said, "All our dreams can come true if we have the courage to pursue them?" Walt Disney
March 11: What's the best definition of the word CHARISMATIC? Charming
March 20: Read the sentence: FINISHED FILES ARE THE RESULT OF YEARS OF SCIENTIFIC STUDY COMBINED WITH THE EXPERIENCE OF YEARS. Now count aloud the Fs in that sentence. Count them only once. What's your answer? 6
Entry Limit: one entry per household per week. Entries received in an individual Weekly Entry Period will NOT be included in subsequent Weekly Entry Periods' drawings. Sharing is optional and will NOT give you additional entries.
Forty (40) Prizes (one per week): case of Bays English Muffins (12 six-count packages). ARV: $22.95
Disclosure: this listing
may contain
affiliate links. Read our
ad policies
for more details. This post
may contain
a tracking link which is different than a referral link. Read more
here