Hurray for Veterans Day! Thank you Veterans and our military for their service and sacrifice. We are a military family. My husband served in the Navy for 10 years and two of my boys were in the Marines and served in Iraq twice. Do you have someone in the military? Check out my list of the latest Veteran's Day freebies and giveaways in this Veteran's Day Roundup!
Did you know? Veterans Day is actually Armistice Day and is commemorated every year on November 11 to mark the armistice signed between the Allies of World War I and Germany at Compiègne, France, for the cessation of hostilities on the Western Front of World War I, which took effect at eleven o'clock in the morning – the "eleventh hour of the eleventh day of the eleventh month" of 1918. From Wikipedia
A lot of the Veteran's Day freebies require that you show a valid ID for active duty and retired military personnel. Veteran must show proof of military service with either a military ID card, Veterans Affairs card or discharge papers. Many of the freebies are only valid on Friday, November 11, 2016.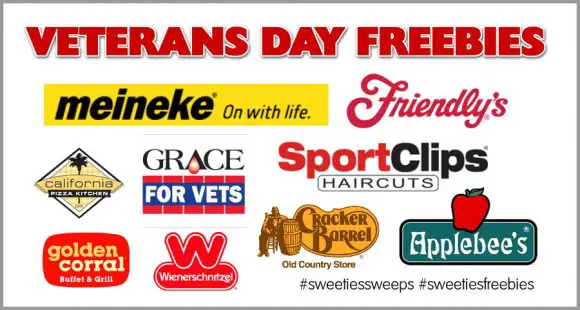 Take a look at the Free Food offerings and plan you "Freebie Foodie Adventure" now. Some of the lines to these restaurants can get long especially if they are near a military base.
Veteran's Day Freebies for 2016
Veteran's Day Food Freebies
When in doubt, call the restaurant to see if their location is participating. Not all locations participate in these Veteran's Day free meal and food offerings.
Active and former US military members and their spouses can get a free eGift card from Sam's Club when you join or renew as a Sam's Plus member, Sam's Savings Member or Sam's Business member! Plus, you can score a free cake and a free pie!
Free $15 eGift Card with Sam's Savings or Business Membership
Free $25 eGift Card with Sam's Plus Membership
Free cake
Free pie
After Veteran's Day Freebies
Veteran's Day Giveaways
These giveaways end on November 11th
Suncast Selection Days Giveaway
Enter to win a Suncast Grand Prize that Includes: 22-Gallon Storage Seat ($30), 73-Gallon Deck Box ($70), 124-Gallon Extra Large Deck Box ($115), 134-Gallon Extra Large Deck Box ($220) and 195-Gallon Backyard Oasis Storage ($200)
Wheel of Fortune Veteran's Week
It's Veteran's Week at Wheel of Fortune. Create a Free account and get your Spin ID. Watch the show and you could win.
While you're there, register for the new Wheel of Fortune Secret Santa SPIN ID Sweepstakes
LIVE with Kelly Cuisinart Giveaway
LIVE with Kelly is giving a Cuisinart kitchen package wroth $1,200. Enter daily with the daily answer.
BBMC Mortgage 2016 Veteran's Free Mortgage for a Year Sweepstakes
This sweepstakes is open only to those who are active members of the United States military, or, in the alternative, veterans of the United States military and who have not been dishonorably discharged. The winner will be announced during the Army-Navy college football game on December 10, 2016.
BBMC Mortgage, LLC will pay the home mortgage of the winner for twelve (12) months, up to $2,500.00 per month (or $30,000.00 over the course of the twelve (12) months) to one grand prize winner. Four Second Place Prizes will be awarded: BBMC Mortgage, LLC will pay the airfare, two nights stay in a hotel and game tickets for the four Second Place Prize winners, along with one guest for each Second Place Prize winner, to attend the 2016 Army-Navy football game.
Did you know that we post military only sweepstakes on the Secret site? This sweepstakes is not on the Secret site but is an example of some of the military sweepstakes we list there.
Veterans Travel Benefits Veterans Day Travel Sweepstakes
In honor of our Veterans (past and present), the Veterans Travel Club is sponsoring a Veteran's Day Travel Sweepstakes with 53 Winners!
Dr Oz Lighting Science GoodDay Bulbs Sweepstakes
Dr. Oz is giving 100 winners a GoodDay HealthE Series LED light bulb by Lighting Science. The GoodDay bulb by The Lighting Science Group is the only biologically-correct LED lighting solution proven to give you more energy, promote alertness and enhance performance with their patented, stimulating blue-enhanced spectrum.
Nintendo NES Classic Edition Video Game Console Giveaway
Enter to win one of five Nintendo NES Classic Edition video game console from Family Video (APV $59.99)
PayPal Singles Day Cash Sweepstakes
PayPal is giving away $111 or $1,111 in cash to six winners in their Singles Day sweepstakes. Enter when you sop and pay with Paypal or enter by mail without purchase.
This sweepstakes end on December 31
Cracker Jack Veteran's Day Carry The Load Sweepstakes
Honor our nation's heroes for a chance to win a trip to Boston for two that includes flight, accommodations and $1,000 spending money. Six hundreds First prize winners receive a Cracker Jack t-shirt! Two winners will win the grand prize trip.
Did you know that we post military only sweepstakes on the Secret site?