Radio Flyer 25 Days of Holiday Giveaways are here and can win one of the new @RadioFlyer toys, wagons, bikes, trikes and more.
Radio Flyer sent our grand daughter, Layla an Radio Flyer Ultimate EZ Folding Wagon and she's in love with it. It is big enough to hold her cousin and mom can take it to the beach and fill it with all of their toys and beach towels. I had no idea this existed until they sent it to us to review. It is pretty amazing. It folds by pulling the handle in the center and then you can put it in your car or SUV just like you would a stroller. It comes with a detachable canopy as well. There are cup holders on the inside and the outside as well as a large wheels. You can read our full write-up about it on sweetieskidz.com
Watch my grand daughter Layla take a spin in the EZ Wagon.
November 25th is your chance to win this Radio Flyer EZ Fold Wagon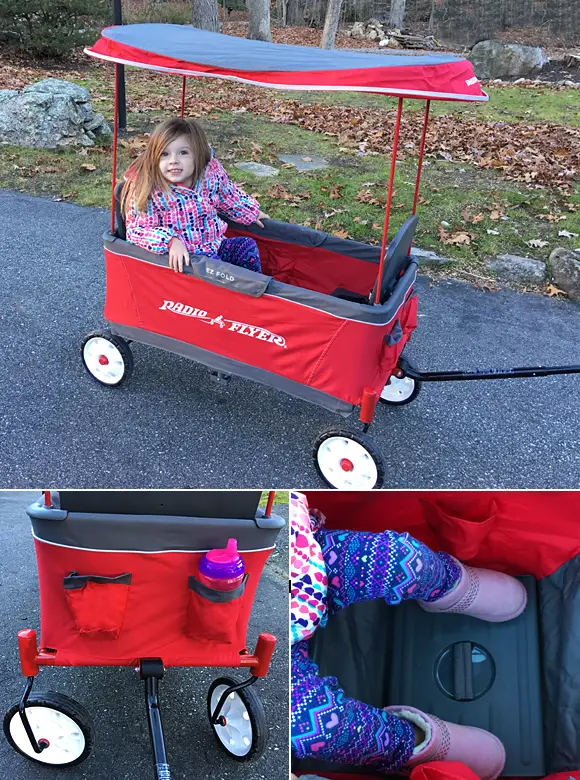 Eligibility: US, DC, Canada (excluding Quebec), 18/age of majority and older
Entry Dates: November 22, 2016 and end at 11:59:59 p.m. CT December 16, 2016
Random Drawing: on or about ten days after the end of the daily drawing
Click Here to Enter | Official Rules
Mail-in Entry: mailing a request to enter, along with your name and address, to:
Radio Flyer Inc.
25 Days of Holiday Giveaways Sweepstakes
6515 W. Grand Avenue
Chicago, Illinois 60707
Must be received prior to the drawing date. Must specify the drawing date on the submission
Entry Limit: one entry per person per day, regardless of method of entry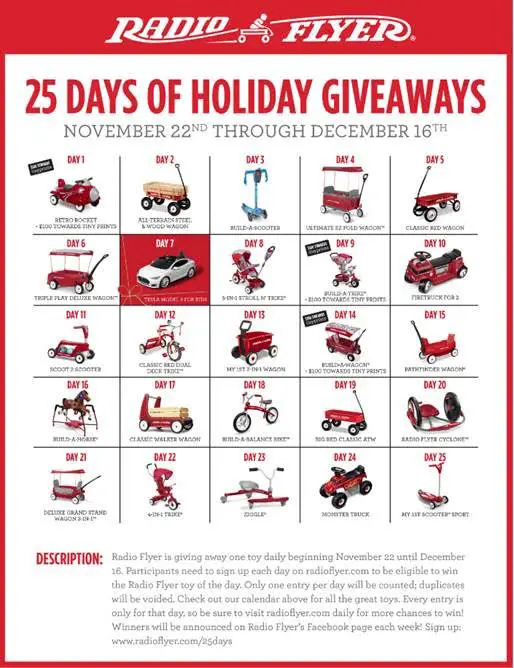 Radio Flyer 25 Days of Holiday Prizes:
November 22: Retro Rocket ARV: $29.99 Plus $100 towardsTinyprints
November 23: All-Terrain Steel & Wood Wagon ARV: $150
November 24: Build -A-scooter ARV: $49,99 to $89.99
November 25: Ultimate EZ Fold Wagon ARV: $159.99
November 26: Classic Red Wagon ARV: $99.99
November 27: Triple Play Deluxe Wagon ARV: $189.99
November 28: Tesla Models for Kids ARV: $499 to $624
November 29: 5-In-1 Stroll 'N Trike ARV: $169.99
November 30: Build – Trike ARV: $75 to $214 Plus $100 toward Tinyprints
December 1: Firetruck For 2 ARV: $109.99
December 2: Scoot 2 Scooter ARV: $39,99
December 3: Classic Red Dual Deck Tricycle ARV: $69.99
December 4: My First 2-In-1 Wagon ARV: $29.99
December 5: Build-A-Wagon ARV: $115 to $333 Plus $100 towards Tinyprints
December 6: Pathfinder Wagon ARV: $99.99
December 7: Build-A-Horse ARV: $145 to $197
December 8: Classic Walker Wagon ARV: $79.99
December 9: Build-A-Balance Bike ARV: $59.99 to $101.99
December 10: Big Red Classic ATW ARV: $138.99
December 11: Radio Flyer Cyclone ARV: $49.99
December 12: Deluxe Grand Stand Wagon 3-In-! ARV: $159.99
December 13: 4-In-1 Trike ARV: $99.99
December 14: Ziggle ARV: $49.99
December 15: Monster Truck ARV: $99.99
December 16: My 1st Scooter Sport ARV: $34.99