Watch Gold Rush on the Discovery Channel on Fridays at 9:00 pm ET for your chance to win! Once you see the secret code on TV, come back here to enter the giveaway!
Want to win more?
Enter the Starz Black Sail Sweepstakes. We have the weekly codes here
Did you win Wheel of Fortune? Check the daily winning ID here
There are 50 Amazon "Bouncy Box" Giveaway updated daily here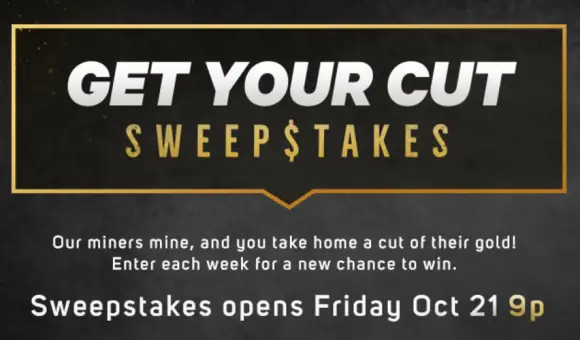 Eligibility: US, DC, 18 and older
Entry Dates: Begins at 9:00 pm ET on October 21, 2016 and ends at 3:00 am ET on March 4, 2017
Random Drawing: Weekly drawings on the first business day following the close of an Entry Period. Grand Prize drawing On or about March 6, 2017.  On March 6, 2017, between 11:00 AM ET and 3:00 PM ET, the potential Grand Prize winner will be notified by telephone at the telephone number provided in the entry submission.  The potential winner must be reached by phone when called, and must verbally confirm his/her eligibility and acceptance of the prize.  No telephone messages will be left for potential winner, and the potential winner will only be telephoned one time for attempted prize notification. Notification attempts not satisfactorily completed within 3 minutes may be deemed as unsuccessful, and an alternate winner will be selected.
Website Entry Form | Official Rules
Each week during the Sweepstakes Period, an entry code will be displayed in an on-screen graphic between 9 – 11 PM ET on Discovery Channel.  A different Code will be displayed each week. You must submit a correct Code for the Entry Period for which you are entering to receive an entry into the Sweepstakes.  Entrants who do not submit a correct Code for said Entry Period will not receive an entry into the Sweepstakes.
Discovery Get Your Cut Codes: 9:00 PM ET Friday to 8:59 PM ET the following Friday (except as noted below)
October 21: 416.13
October 28: 365.86 oz.
November 4: 219.65 oz.
November 11: 112.90 oz.
November 18: 278.66 oz.
November 25: 148.2 oz.
December 2: 192.4 oz
December 9: 585.20 oz
December 16 to December 30: 108.95 oz
December 23 There will not be a code this week
December 30: 102.65 oz (Thanks Phil & Ed)
January 6: 340.30 oz
January 13: 0 oz (zero oz.)
January 20: 273.40 oz.
January 27: 291.70 oz
February 3: 319.05 oz
February 10: 357.40 oz
February 17: 471.95 oz
February 24: 690.16 oz
March 3 to 3:00 am ET March 4: 656.40 oz
Entry Limit: one entry per person per week
One (1) Grand Prize: a check in the amount of a percentage of the gold mined by the Gold Rush miners during Season 7, not to exceed $90,000.
Nineteen (19) Weekly Prizes (one per week): Gold Rush-themed prize pack ARV: $100
Prize Limit: one Weekly Prize per person.