Click Here to Enter for your chance to win prizes from LIVE'S Drive Me Wild Web Trivia Sweepstakes. Answers Here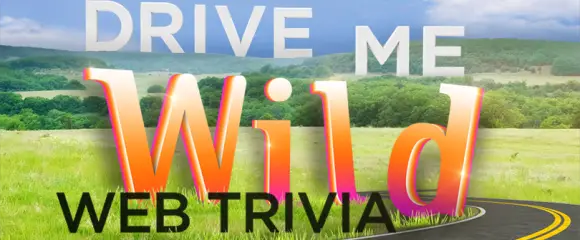 Eligibility: US, DC, Canada, (excluding Quebec), 18 and older
Entry Dates: July 5, 2016 and ends on August 5, 2016
Random Drawing: on or about July 11, July 18, July 25, August 1, and August 8, 2016.  Winners will be notified by telephone each Monday following the end of an entry period
Website Entry Form | Facebook Entry Form | Official Rules
Drive Me Wild Web Trivia Questions and Answers
Answers also available on Snapchat Daily in my snaps
July 5:  Zac Efron appeared on yesterday's show. Where did Zac say he spent two months filming his latest movie?Hawaii
July 6: On yesterday's show, we talked with music group "A Great Big World." Where did member Ian Axel say he went on his honeymoon? Hawaii
July 7: Curtis "50 Cent" Jackson appeared on yesterday's show. What kind of fish did we say live in 50 Cent's one acre pond? Koi Fish
July 8: Dwyane Wade appeared on yesterday's show. In addition to their feet, what did Kelly say she and Dwyane have in common? Outie Belly Buttons
July 11:  Queen Latifah appeared on Friday's show. In what city did Queen Latifah say she is currently filming a movie? New Orleans
July 12: On yesterday's show, we talked with actress Constance Zimmer. What musical did Constance say she auditioned for in high school? Grease
July 13: Leslie Jones appeared on yesterday's show. At what store did Leslie say she once ran into Carrie Ann Inaba? Best Buy
July 14: On yesterday's show, we talked with actress Blake Lively. What did Blake say Woody Allen said to her after her audition for her new film? Okay, can you do it one more time but just louder. And, Would you like to be in the movie?
July 15: On yesterday's show, we talked with Kristen Stewart. What did we say Kristen's mother does for a living? Script Supervisor
July 18: Melissa McCarthy appeared on Friday's show. What part did Melissa say was one of the few acting roles she had in high school? A cheerleader
July 19: Craig Bierko appeared on yesterday's show. Who did we say Craig kissed in an Off-Broadway play? Mark Consuelos
July 20: On yesterday's show, what cartoon character did Kelly say she once had a framed cel shot of? Michigan J. Frog
July 21: Keegan-Michael Key appeared on yesterday's show. What did Keegan say is the name of his mother's dog? Foxy
July 22: On yesterday's show we talked with Seth Meyers. What did Seth say the nurses were wearing when his son was born? Bunny Ears
July 25:  Idris Elba appeared on Friday's show. What did Idris say he would be if he hadn't become an actor? Teacher of Drama (or Drama Teacher)
July 26: Lou Diamond Phillips appeared on yesterday's show. What did Lou say was the name of the comedy troupe where he had his first paying job? The Zero Hour
July 27: Alan Cumming appeared on yesterday's show. What country did Alan say he was flying to after the show? Scotland
July 28: Earlier this week, Alicia Vikander appeared on the show. What game did Alicia say she and her friends play? Yahtzee
July 29: On yesterday's show, who did we say adopted a dog from our show? Zachary Quinto
August 1: Margot Robbie appeared on Friday's show. What did Margot say was once ruined by being put in a microwave? Passport
August 2: On yesterday's show, we talked with Adewale. What did Adewale say he is scared of? Mice
August 3: Viola Davis appeared on yesterday's show. What did Viola say she puts on her toes to help with her shoes at award shows? Crisco
August 4: On yesterday's show, we talked with Bryce Dallas Howard. What did Bryce say is her nickname for Josh Gad? Josh Filth
August 5: On yesterday's show, what did we say is the name of the cat we showed a photo of?  Herman 
Entry Limit: one entry per person per 24 hours between 9:00 AM ET and 11:59 PM ET. Sharing is optional and will not give you bonus entries.
Five (5) Prizes (one per week): a Cuisinart Prize Package
Disclosure: this listing
may contain
affiliate, referral or tracking links. Read about our
policies
for more details.