Goodreads.com gives away Free books everyday. Take a look at some of the giveaways going on now. If you have never visited you should go check out the site. If you are a book lover you should enter to win books. It is pretty easy to win books and very easy to enter.
General Goodreads Rules: No purchase necessary. Only one entry is allowed per household per book giveaway. You must be 13 or older and a legal resident of one of the countries this giveaway is listed for. The publisher or author, not Goodreads, is responsible for shipment of books to winners. You are not required to review the book if you win a copy. However, we encourage you do to so, as it's the reason the publishers are giving us free books in the first place. People who review the books are also more likely to win more advance copies in the future.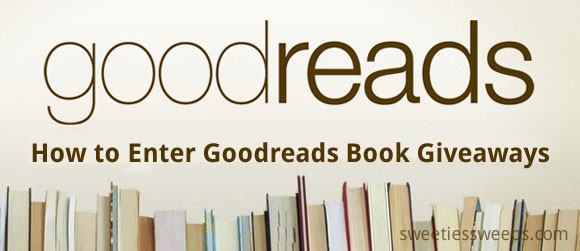 How to Enter Goodreads Book Giveaways:
Visit Goodreads.com and create an account. To create an account you can log in using your Facebook, Twitter, Google or Amazon.com account or create a user name and password.
Then, visit the Book giveaway page and look through the list of books being given away. There are pages and pages of book giveaways going on at any one time.
Click to Enter Giveaway and choose the name and address you would like the book sent to if you win.
Agree to the official rules and you can also add this book to my to-read shelf or deselect that option.
Click HERE to check your history of the giveaways you have entered, and also see which books you won.
Here are a few Goodreads.com book giveaways ending this month that are giving away 50 or more books.
February 1st
Galaxy of Empires (Rise of the Space Dragons, #1) by Bruce Marcom 200 copies, US, Canada, Great Britain, more
Sleeping Giants (Themis Files #1) by Sylvain Neuvel 200 copies, US, CA
Almost Midnight (Shadow Falls: After Dark #3,5) by C.C. Hunter 65 copies, US, CA
February 2nd
Regrets Only: A Novel (The Marriage Pact #2) by M.J. Pullen 50 copies US
Shelter by Jung Yun 50 copies, US
February 3rd
The Industries of the Future by Alec J. Ross 100 copies, US
And Then All Hell Broke Loose: Two Decades in the Middle East by Richard Engel 50 copies, US
February 4th
How to Make Your Money Last: The Indispensable Retirement Guide by Jane Bryant Quinn 50 copies, US
First Born by Janelle Gabay 50 copies, US, Canada
February 5th
The Witch's Daughter (The Witch's Daughter #1) by Paula Brackston   50 copies, US
Lily and the Octopus by Steven Rowley 100 copies, US
The Coaching Habit: Say Less, Ask More & Change the Way You Lead Forever by Michael Bungay Stanier 50 copies, US, Canada
February 7th
Dreamfever (Dreamfire #2) by Kit Alloway 75 copies, US
February 8th
Georgia: A Novel of Georgia O'Keeffe by Dawn Tripp 80 copies, US
The Children by Ann Leary 50 copies, US
February 9th
The Girl in the Red Coat by Kate Hamer   50 copies, US
"Most Blessed of the Patriarchs": Thomas Jefferson and the Empire of the Imagination by Annette Gordon-Reed, Peter S. Onu 50 copies, US
On Augustine: The Two Cities by Alan Ryan 50 copies, US
Candyland by Vicki Salloum 50 copies, US
February 12th
A Fierce and Subtle Poison by Samantha Mabry 50 copies, US
Return of the Witch (The Witch's Daughter #2) by Paula Brackston 75 copies, US
February 15th
The Last One: A Novel by Alexandra Oliva 75 copies, US
A Doubter's Almanac by Ethan Canin 50 copies, US
Songs of the Mist by Shashi 50 copies, US, Canada, Great Britain
Redemption Road by John Hart 75 copies, US, Canada
Swati's Marriage and Other Tales of India by Ankita Sharma 100 copies, US, CA, GB
Most Wanted by Lisa Scottoline 100 copies, US
February 16th
A Girl's Guide to Moving On (New Beginnings #2) by Debbie Macomber 100 copies, US
The Girl from the Paradise Ballroom: A Novel by Alison Love 50 copies, US
February 17th
All Is Not Forgotten by Wendy Walker 50 copies, US
February 18th
Sweet Lamb of Heaven by Lydia Millet 65 copies, US
February 19th
Natchez Burning (Penn Cage #4) by Greg Iles 100 copies, US
What Remains of Me by Alison Gaylin 50 copies, US
February 21st
Quest for the True Cross (The Templar Series #1) by Tony McMahon 50 copies, US, Great Britain
Only in Naples: Lessons in Food and Famiglia from My Italian Mother-in-Law by Katherine Wilson 50 copies, US
The Fugitives by Christopher Sorrentino 50 copies, US
February 22nd
Movie Freak: My Life Watching Movies by Owen Gleiberman 50 copies, US
Thanks for the Trouble by Tommy Wallach  50 copies, US
February 23rd
Sprint: How to Solve Big Problems and Test New Ideas in Just Five Days by Jake Knapp, John Zeratsky, Brad Kowitz  50 copies, US
February 26th
Feverborn (Fever Series #8) by Karen Marie Moning 50 copies, US
Sisi: Empress on Her Own (Sisi #2) by Allison Pataki 100 copies, US
February 28th
A Necessary End: A Novel by Holly Brown 50 copies, US
Can You Keep a Secret? (Fear Street Relaunch #4) by R.L. Stine  100 copies, US
February 29th
Two Pairs of Shorts by W.C. Clinton 50 copies, Canada, Great Britain
The Passage (The Passage #1) by Justin Cronin 50 copies, US
Made in Sweden, Part I: The Father by Anton Svensson 100 copies, US
Pirate Hunters: Treasure, Obsession, and the Search for a Legendary Pirate Ship by Robert Kurson 50 copies, US
Death at Breakfast: A Novel by Beth Gutcheon 50 copies, US
Troublemaker by Linda Howard 50 copies, US
Wilde Lake by Laura Lippman 50 copies, US
The Love Song of Miss Queenie Hennessy: A Novel (Harold Fry #2) by Rachel Joyce 50 copies, US
March 1st
Paris Is Always a Good Idea by Nicolas Barreau 50 copies, US
Back from the Dead by Bill Walton, John Papanek 50 copies, US
Will You Won't You Want Me? by Nora Zelevansky 50 copies, US
Unseen City: The Majesty of Pigeons, the Discreet Charm of Snails & Other Wonders of the Urban Wilderness by Nathanael Johnson 50 copies, US, CA
March 2nd
The Raven Boys (The Raven Cycle #1) by Maggie Stiefvater 50 copies, US
Consequence: A Memoir by Eric Fair 100 copies, US
March 7th
The Curious Charms of Arthur Pepper by Phaedra Patrick 300 copies, US, Canada