Goodreads.com gives away Free books everyday. Take a look at some of the giveaways going on now. If you have never visited you should go check out the site. If you are a book lover you should enter to win books. It is pretty easy to win books and very easy to enter.
General Goodreads Rules: No purchase necessary. Only one entry is allowed per household per book giveaway. You must be 13 or older and a legal resident of one of the countries this giveaway is listed for. The publisher or author, not Goodreads, is responsible for shipment of books to winners. You are not required to review the book if you win a copy. However, we encourage you do to so, as it's the reason the publishers are giving us free books in the first place. People who review the books are also more likely to win more advance copies in the future.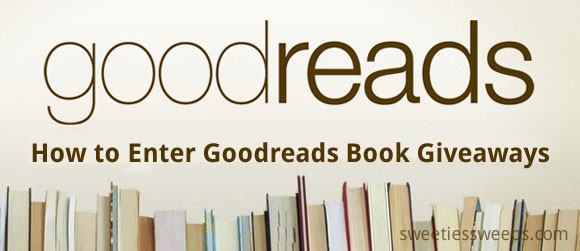 How to Enter Goodreads Book Giveaways:
Visit Goodreads.com and create an account. To create an account you can log in using your Facebook, Twitter, Google or Amazon.com account or create a user name and password.
Then, visit the Book giveaway page and look through the list of books being given away. There are pages and pages of book giveaways going on at any one time.
Click to Enter Giveaway and choose the name and address you would like the book sent to if you win.
Agree to the official rules and you can also add this book to my to-read shelf or deselect that option.
Click HERE to check your history of the giveaways you have entered, and also see which books you won.
Here are a few Goodreads.com book giveaways ending this month that are giving away 50 or more books.
January 3rd
Gods In The Mist by Virgil Renzulli 125 copies US, Great Britain, Canada
Revenants: The Odyssey Home by Scott Kauffman 50 copies US, Canada, Great Britain
January 4th
Sisi: Empress on Her Own by Allison Pataki  100 copies US
Shame and Wonder: Essays by David Searcy 50 copies US
My Name Is Lucy Barton by Elizabeth Strout 75 copies US
A Summer Before The War: A Novel by Helen Simonson  75 copies US
The High Mountains Of Portugal by Yann Martel 75 copies US
Flesh and Blood: A Scarpetta Novel (Kay Scarpetta #22) by Patricia Cornwell 96 copies, US
January 5th
Under a Cloud of Rain: A Nick Noelle Mystery by A.R. Baumann 50 copies, US, Canada
The Cyclops Initiative (Jim Chapel #3) by David Wellington 50 copies, US
Spark Joy: An Illustrated Master Class on the Art of Organizing and Tidying Up by Marie Kondō 50 copies, US
Outland Exile: Book One of Old Men and Infidels by W. Clark Boutwell 50 copies, US
January 6th
Breakdown: An Alex Delaware Novel #31 by Jonathan Kellerman 50 copies US
Afternoon by Robert Lampros 50 copies US
January 10th
All Is Not Forgotten by Wendy Walker 100 copies US
Creation (Chronicles of Ara #1) by Joel Eisenberg, Stephen Hillard, Steve Hillard 50 copies, US
Alice & Oliver: A Novel by Charles Bock 50, US
January 11th
All In by Simona Ahrnstedt, Tara Chace 50 copies, US, Canada
Your Heart Is a Muscle the Size of a Fist by Sunil Yapa 50 copies, US
January 15th
A Girl's Guide to Moving On by Debbie Macomber 50 copies, US
January 16th
Galaxy of Empires (Space Pirates, #1) by Bruce Marcom 100 copies, US, Canada, Great Britain, more
January 18th
The Man His Father Was by Pat Leonard US, Canada, Great Britain
January 26th
Under Their Skin (Under Their Skin #1) by Margaret Peterson Haddix 50 copies US
January 27th
The Charm Bracelet by Viola Shipman 50 copies US
January 28th
President Trump Sells California by Duke Q. Wallace 96 copies, US
Most Wanted by Lisa Scottoline 100 copies US
January 29th
Just Fall by Nina Sadowsky 50 copies US
January 30th
The Passage (The Passage #1) by Justin Cronin 50 copies, US
Untangled: Guiding Teenage Girls Through the Seven Transitions into Adulthood by Lisa Damour 100 copies, US
January 31st
Getting Away with Murder: A True Story by George C Mallinckrodt 50 copies US
Lit Gloss: A Rose by Any Other Name by Crystal Carroll 50 copies, US
Sisi: Empress on Her Own (Sisi #2)
by Allison Pataki 100 copies, US
All that we touch (First Kiss Mystery #3) by Ray Else 100 copies, US
February 1st
Galaxy of Empires (Rise of the Space Dragons, #1) by Bruce Marcom 200 copies, US, Canada, Great Britain, more
Sleeping Giants (Themis Files #1)
by Sylvain Neuvel 200 copies, US, CA
Almost Midnight (Shadow Falls: After Dark #3,5) by C.C. Hunter 65 copies, US, CA
February 2nd
Regrets Only: A Novel (The Marriage Pact #2) by M.J. Pullen 50 copies US
February 9th
The Girl in the Red Coat by Kate Hamer   50 copies, US
Disclosure: this listing
may contain
affiliate or tracking links, which
are not referral links
. Read about our
policies
for more details.