Do you want to win $250 in CASH? Enter the Choosy Bookworm Holiday Extravaganza Giveaway #cbw #eNovAaW and you could win awesome books by some of your favorite authors and $250 in Cash! Choosy Bookworm has partnered with eNovel Authors at Work to bring you a month long celebration of Giveaways.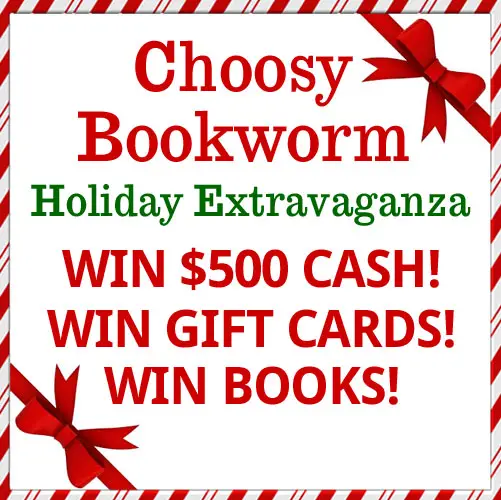 Eligibility: United States, Canada, 18 years of age and older. Note: Paypal Cash is open to Participants Worldwide. Note: Some authors offer prizes for global participants i.e. Canada/UK/Australia/US. Note: Amazon gift Cards USA amazon.com
Giveaway Dates: Choosy Bookworm November 1-30, 2015. Mimi Barbour, Lorena Angell, Rosie Dean November 1-3, 2015.
Random Drawing on or about November 30, 2015
Enter this giveaway HERE
Enter both giveaway from the same entry page.
Read the official rules HERE
Entry Limit: one initial entry per person for each giveaway for 11 initial entries per person + bonus entries for completing various activities and sharing.
There are new giveaway by a group of authors every 3 days with all new prizes so make sure to visit choosybookworm.com every few days to enter to win new prizes
Choosy Bookworm Prize Details:
Two winners will each receive $250 Paypal Cash or Amazon Gift Cards–Winner choice (from Choosy Bookworm)
November 1 – 3: Lorena Angell, Mimi Barbour, Rosie Dean
One Winner will receive SPECIAL AGENT FRANCESCA by Mimi Barbour (paperback)
One Winner will receive SPECIAL AGENT FINNEGAN by Mimi Barbour (Paperback)
One winner will receive a $20 Amazon Gift Card (from Mimi Barbour)
Two winners will each receive a print Copy of A DIAMOND IN MY POCKET by Lorena Angell (US ONLY)
Two winners will each receive an eCopy of A DIAMOND IN MY POCKET by Lorena Angell (gifted from Amazon, open Internationally)
One winner will receive a $10 Amazon gift card from Lorena Angell
Two winners will each receive an eCopy of VICKI'S WORK OF HEART by Rosie Dean (gifted from Amazon, open internationally)
One winner will receive a print copy of VICKI'S WORK OF HEART by Rosie Dean (UK only)
One winner will receive a set of 24 Watercolour pencils from Rosie Dean (UK only)
November 4 – 6: Anne Kennison, Piper Templeton, PC Zick
One winner will receive a print copy of DEATH BY ROMANCE by Anne Kennison (US Only)
Two winners will each receive an eCopy of DEATH BY ROMANCE by Anne Kennison
One winner will receive a $10 Amazon Gift Card (from Anne Kennison)
Three winners will each receive print copies of RAIN CLOUDS & WATERFALLS by Piper Templeton (open Internationally)
Two winners will each receive an eCopy of RAIN CLOUDS & WATERFALLS by Piper Templeton (gifted from Amazon, open Internationally)
One winner will receive a $10 Amazon Gift Card (from Piper Templeton)
One winner will receive an eCopy of BEHIND THE ALTAR by PC Zick (gifted from Amazon, open Internationally)
One winner will receive an eCopy of BEHIND THE BAR by PC Zick (gifted from Amazon, open Internationally)
One winner will receive an eCopy of BEHIND THE CURTAIN by PC Zick (open Internationally)
Two winners will each receive AUTOGRAPHED print copies of BEHIND THE CURTAIN by PC Zick (US Only)
November 7 – 9: Traci Hall, Amy Vansant, TJ Shortt
Five winners will receive an eCopy of MASQUERADE BY THE SEA by Traci Hall (open Internationally)
One winner will receive a $10 Amazon Gift Card (from Traci Hall)
Two winners will each receive eCopies of both SHIVER COVE, Part 2: Val AND SHIVER COVE, Part 3: Sandi by TJ Shortt
Five winners will each receive Kindle versions of PINEAPPLE PORT BOOK II: PINEAPPLE MYSTERY BOX by Amy Vansant
November 10 – 12: Jackie Weger, Nick Tory, Pete Barber
Five winners will each receive print editions of NO PERFECT FATE by Jackie Weger (USA Only)
One winner will receive (1) complete set of signed Print editions: NO PERFECT SECRET/NO PERFECT DESTINY/NO PERFECT FATE (USA ONLY)
One winner will receive a print copy of JOHNNY 12 STEPS (Book 1) by Nick Tory (US only)
One winner will receive a print copy of JOHNNY VEGAS (Book 2) by Nick Tory (US only)
One winner will receive a print copy of JOHNNY DRIVER (Book 3) by Nick Tory (US only)
Three winners will each receive an eCopy of JOHNNY REAL ESTATE by Nick Tory
Three winners will each receive print copies of WHEN A WARRIOR COMES HOME by Pete Barber (US only)
Five winners will each receive an eCopy of WHEN A WARRIOR COMES HOME by Pete Barber (gifted from Amazon)
November 13 – 15: Stacy Juba, Mary Smith, Dianne Greenlay
Five winners will each receive an eCopy of SINK OR SWIM by Stacy Juba (winner's choice of Smashwords edition or Audible edition)
Five winners will each receive an eCopy of TWENTY-FIVE YEARS AGO TODAY by Stacy Juba (winner's choice of Smashwords or Audible edition)
One winner will receive a print copy of NO MORE MULBERRIES by Mary Smith (UK only)
Four winners will each receive an eCopy of NO MORE MULBERRIES by Mary Smith
Two winners will each receive a print copy of DEADLY MISFORTUNE by Dianne Greenlay (US AND CANADA ONLY)
Two winner will each receive an eCopy of DEADLY MISFORTUNE by Dianne Greenlay (gifted from Amazon, open Internationally)
One winner will receive a $10 Amazon Gift Card (from Dianne Greenlay)
November 16 – 18: Aurora Springer, Jinx Schwartz, Dale Furse
Two winners will each receive an eCopy of GRAND MASTER'S GAME by Aurora Springer
Three winners will each receive an eCopy of any book from the HETTA COFFEY Series by Jinx Schwartz (winner's choice of title, gifted from Amazon)
Three winners will each receive an eCopy of ESCAPE FROM ZANDELL by Dale Furse (Gifted from Amazon, open internationally)
One winner will receive a $10 Amazon Gift Card (from Dale Furse)
November 19 – 21: AJ Lape, Julie Frayn, Effrosyni Moschoudi
One winner will receive a print copy of GRADE A STUPID by AJ Lape (US Only)
Four winners will each receive an eCopy of any book from AJ Lape's backlist
One winner will receive a SWAG Pack (US Only, includes bookmark and refrigerator magnets)
Two winners will each receive Audible Downloads of GRADE A STUPID by AJ Lape
Four winners will each receive eCopies of both ROMEO IS HOMELESS and GOODY ONE SHOE by Julie Frayn (gifted from Amazon.com)
One winner will receive a $10 Amazon Gift Card (from Julie Frayn, gifted from Amazon.com)
November 22 – 24: EM Kaplan, Roberta Kagan, Phoebe Matthews
One winner will receive a print copy of THE BRIDE WORE DEAD by EM Kaplan (US ONLY)
Two winners will receive an eCopy of THE BRIDE WORE DEAD by EM Kaplan (gifted from Amazon, open Internationally)
One winner will a Swag Pack (includes bookmarks, pens, Josie Tucker bag) from EM Kaplan (US ONLY)
Two winners will each receive Audible downloads of THE BRIDE WORE DEAD by EM Kaplan (open Internationally)
Three winners will each receive a Kindle copy of ALL MY LOVE, DETRICK by Roberta Kagan (gifted from Amazon)
Two winners will each receive paperbacks of ALL MY LOVE, DETRICK by Roberta Kagan (US ONLY)
One winner will receive a $10 Amazon Gift Card (from Roberta Kagan
November 25 – 27: Laurie Boris, RP Dahlke, Bronwyn Elsmore
One winner will receive a print copy of A SUDDEN GUST OF GRAVITY by Laurie Boris (US only, brand-new release!)
One winner will receive a print copy of DRAWING BREATH by Laurie Boris (US only)
One winner will receive a print copy of DON'T TELL ANYONE by Laurie Boris (US only)
Three winners will each receive an Audible downloads of DRAWING BREATH by Laurie Boris
Five winners will each receive an eCopy of any backlist book from RP DAHLKE (reader's choice, gifted from Amazon/Kindle)
One winner will receive a $10 Amazon Gift Card (from RP Dahlke)
Three winners will each receive an eCopy of EVERY FIVE MINUTES by Bronwyn Elsmore (gifted from Amazon (USA or UK Only))
November 28 – 30: Ellie Campbell, Donna Fasano, Melinda Curtis
Five winners will each receive a Kindle copy of  MILLION DOLLAR QUESTION by Ellie Campbell (gifted from Amazon, open Internationally)
One winner will win a $15/£10 Amazon gift voucher (from Ellie Campbell, US and UK Only)
Five winners will each receive Audible downloads of LOOKING FOR LA LA or HOW TO SURVIVE YOUR SISTERS by Ellie Campbell (US/UK Only, gifted through Amazon)
One winner will receive a print copy of RECLAIM MY HEART by Donna Fasano (US Only)
One winner will receive an eCopy of TAKING LOVE IN STRIDE by Donna Fasano (gifted from Amazon, open Internationally)
One winner will receive an eCopy NANNY AND THE PROFESSOR by Donna Fasano (gifted from Amazon, open Internationally)
One winner will receive an eCopy of MOUNTAIN LAUREL by Donna Fasano (gifted from Amazon, open Internationally)
One winner will receive an Autographed copy of one of Melinda Curtis's Harmony Valley series of books from Harlequin Heartwarming – winner's choice (international winners will receive an ecopy)
One winner wil receive an eCopy of ALWAYS A BRIDESMAID by Melinda Curtis