Sierra Trading Post is giving away a total of $7,000 in eDeals gift cards during the seven-day sweepstakes period; 6 each day; 60 total prizes.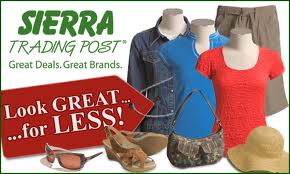 Eligibility: Entrant must be 18 years of age or older as of September 21, 2010 and a resident of the fifty (50) United States and/or the District of Columbia.
Entry Dates: Sweepstakes begins at 12:01 a.m. (MT) on September 21, 2010 and ends at 11:59 p.m. (MT), September 27, 2010.
How to Enter: visit www.sierratradingpost.com/contest/currentcontest.aspx?contestcode=50
Sweeties Note: They seem to be changing the number at the end of the URL each day so the link above won't work everyday. Try changing the 50 to a 51, 52, etc each day until you come up with the live entry form.
Entry Limit: Individuals may enter this Sweepstakes by filling out the online form only once per the daily 24-hour registration period. A single entry form is valid only for a daily 24-hour Sweepstakes period.
Drawing: This Sweepstakes will have 60 drawings and 60 winners. Potential winners will be notified by email or mail some time after September 27, 2010.
60 Prizes: Sierra Trading Post is giving away 60 eDeals cards valid for Sierra Trading Post merchandise
26 winners shall each receive one $50 eDeals card
17 winners shall each receive one $100 eDeals card
10 winners shall each receive one $150 eDeals card
5 winners shall each receive one $200 eDeals card
1 winner shall receive one $500 eDeals card
1 winner shall receive one $1,000 eDeals card
Rules: www.sierratradingpost.com/lp2/7DaysofDeals_Offical_Contest_Rules
Sweeps Rating: Good
Photo Credit: Sierra Trading Post