Enter for a chance to win one of the @Kmart daily Fab 15 toy prizes. One Grand Prize Winner will receive all of the prizes featured, plus, we're giving away one featured toy each day!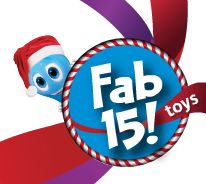 Eligibility: Open only to legal residents of the forty-eight (48) contiguous United States and the District of Columbia who are 18 or older at the time of entry
Entry Dates: September 24, 2010 and ends at 11:59 PM CST on November 28, 2010
How to Enter: visit www.kmart.com/shc/s/dap_10151_10104_DAP_Fab15 to vote and www.fab15sweeps.com to enter the sweepstakes.
Entry Limit: one (1) vote per person per email address per day. Up to six (6) entries per person per email address per day
Grand Prize: (1 winner) Nerf Stampede, Paper Jamz Guitar, Moon Dough Magic Barn Playset, Toy Story Buzz Lightyear Deluxe Action Wing Pack, Lego Atlantis Exploration Headquarters, Barbie Video Girl, Zoobles Gift Pack, Furreal Go Go Walking Pet, Explore with Dora & Perrito, V. Reader, Loopz, Cuponk, Dance Star Mickey, Tonka Ricochet R/C and Hot Wheels RC Stealth Rides. (ARV $633)
Daily Prize: (66 winners – 1 per day) Varies daily (ARV $14.99-$79.99)
Daily toy prizes include:
Nerf Stampede – ARV: $54.99 each: 9/24/10, 10/9/10, 10/24/10 and 11/8/10
Paper Jamz Guitar – ARV: $24.99 each: 9/25/10, 10/10/10, 10/25/10 and 11/9/10
Moon Dough Magic Barn Playset – $19.99 each: 9/26/10, 10/11/10. 10/26/10, 11/10/11 and 11/23/10
Toy Story Buzz Lightyear Deluxe Action Wing Pack – $49.99 each: 9/27/10,10/12/10,10/27/10 and 11/11/10
Lego Atlantis Exploration Headquarters – $49.99 each: 9/28/10, 10/13/10, 10/28/10, 11/12/10 and 11/24/10
Barbie Video Girl – $49.99 each: 9/29/10, 10/14/10, 10/29/10 and 11/13/10
Zoobles Gift Pack – $24.99 each; 9/30/10, 10/15/10, 10/30/10, 11/14/10 and 11/25/10
Furreal Go Go Walking Pet – $59.99 each: 10/1/10, 10/16/10, 10/31/10, 11/15/10 and 11/26/10
Explore with Dora & Perrito – $17.99 each: 10/2/10, 10/17/10, 11/1/10, 11/16/10 and 11/27/10
V. Reader – $59.99 each: 10/3/10, 10/18/10, 11/2/10, and 11/17/10
Loopz – $29.99 each: 10/4/10, 10/19/10, 11/3/10, 11/18/10 and 11/28/10
Cuponk – $14.99 each: 10/5/10, 10/20/10, 11/4/10 and 11/19/10
Dance Star Mickey – $69.99 each: 10/6/10, 10/21/10, 11/5/10 and 11/20/10
Tonka Ricochet R/C – $79.99 each: 10/7/10, 10/22/10, 11/6/10 and 11/21/10
Hot Wheels RC Stealth Rides – $24.99 each: 10/8/10, 10/23/10, 11/7/10 and 11/22/10
Rules: http://www.fab15sweeps.com/rules/english.html
Sweeps Rating: Okay
Photo Credit: KMart