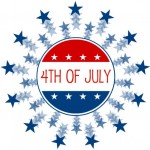 Today is the start of the July 4th holiday weekend and what better way to kick it off but with a look back at some recent sweepstakes winners. Also, remember that a holiday weekend can be the best times to enter instant win games because not as many people will be online.
I haven't gotten a lot of emails from winners lately but I do see the posts on the chatroom and Facebook when someone wins. If you have a recent win why not share it below in the comments.
We all love to hear about winners because it let's us know that yes, real people do win sweepstakes and it keeps us motivated. It's easy to get jealous, though, when you read how people are winning when maybe you're not but you have to remember that your turn is coming. It's coming, that is, if you are willing to do the work. If you see the same people winning over and over you can be sure they are putting a lot of time and effort into this hobby. The more you put in, the more you get out. It's that way with anything in life.
Need more sweepstakes to enter?
If you are looking for even more sweepstakes to enter visit my Sweepstakes Daily Digest. These are sweepstakes that I do not post on this site because they are not considered as winnable. I just post a summary of the rules and prizes and give you the link to enter, nothing pretty. I also posted sweepstakes on my Facebook Fan page daily that aren't always posted on either site and readers are posting sweepstakes there for you to enter as well.
On Twitter I post Twitter contests I get from other readers and sometimes I participate in Twitter parties so when you see me join in. I will be posting videos soon on how to enter Twitter contests and participate in Twitter parties to help yo understand it better.
If you don't know how to enter sweepstakes and win consistently then join my free Sweeping 101 e-Course to learn how. Sweeping 101 members also receive exclusive sweepstakes from time to time that will help to win even more prizes.
Here are some new winners from the Secret site:
Many readers are finding the $25 yearly fee for the secret site is definitely worth the cost and while I can't promise there will be a plethora (don't you just love that word) of sweepstakes for your state you should definitely win your subscription fee back and then some. Click here for more details.
I have just been notified that I am the 1st place winner in American Express's "Worlds Best Awards Sweepstakes" Not sure where we will be going choices will be sent after my travel companion – my wife – signs her Release form. Pretty exciting!!!

cobraag

Sweetie, you sent out a sweep by Kotex and KMart. I won Second Prize which was a year supply of Kotex in the form of 12 $10.00 KMart gift cards. My daughter, who is 5, was yelling I want a gift card, Think they will make great stocking stuffers.

Thank you so much.

Carolyn

Ok so its not a big trip but I posted an instant win game back on June 12th and I told my hubby that I don't think anyone can win on that one and today while playing under his name we won a 1 Night stay at Wilderness at the Smokies resort, including full access to the water parks $249 ea. Since we are saving money for the new baby this free getaway is just what we needed =)

Christine

I just got a phone call from Don Jagoda Associates, that I have won a trip to California. Now I have been sweeping for almost a year and never won anything than few gift cards. This is my biggest win so far. So for everyone who is ready do give up, don't!!! You never know what is there waiting for you.

Here is my win:

3-day/ 2-night trip for two to Los Angeles, Ca to attend and meet and greet with Megan Mullally. Includes round-trip economy class air transportation

two nights at the hotel
transportation to/from hotel
styling session for winner with sponsor-selected stylist
two tickers to a sponsor selected show
dinner for two , awarded as a $500 check

Retail value is $6,225

Isn't this awesome? I can't believe I finally win something big and what's better than trip for someone who just loves to travel.

dadulka11

I was notified last week that I won an opportunity for my 9 yr old daughter to be honorary Bat Kid for our Major League Baseball team. I was thrilled with this win. She already did it. She won a replica uniform, got to be on the field for batting practice and a major league baseball for autographs. Plus I received 4 tickets to that evenings game for the rest of my family. It was such a great experience. The players were super nice.

and too top it off I won 2 tickets to this weekends game while I was there through a text sweep they put on the scoreboard. SWEEEETTTT!!!!

Locals are the way to go for me. I've been winning them consistently!!

This was not posted here but I like to share to keep everyone motivated.

Marti

Some Winners from This Site

Hi Wendy,

I received a letter last weekend that I was the Grand Prize Winner of the Kmart King of Spring Sweepstakes.

The prizes include (1) Grand Prize: One (1) 3-in 1 Smart Sports, one (1) Barbie Mustang Power Wheels, one (1) Tornado Tee Golf Set, one (1) Better Batter Baseball Set, one (1) Gro to Pro Super Sounds Soccer Set, one (1) Bubble Mower, one (1) Barbie Princess Tough Trike, one (1) Dora L&S Trike, one (1) Lil Quad Power Wheels, one (1) Lightning McQueen Power Wheels one (1) Rock, Roll and Ride Trike, one (1) Diego Trike and one (1) Kawasaki Tough Trike. ARV of Grand Prize: $1,000.

I'm very excited about the win. I've decided to donate the entire package to a local charity. The package will be donated to an organization/shelter for Battered Woman and Children here in Vermont. They haven't decided if they will use the toys for the children in shelters, have a fundraiser/auction with the package, or save the toys for the mothers to give to their children at Christmas/birthdays/etc.

I've been sweeping for exactly one year and have had some really great wins. It's a great (addicting) hobby. Thanks Sweetie for all your hard work. I really enjoy your website.

Tabby

Hi Wendy,

Well for about 2 months I had stopped entering sweepstakes then a few days ago I got in the mail a box with Tim MgGraw fragrance! I had won this prize from the Fuji film My Way Daily Online Sweepstakes! This really inspired me to continue entering sweepstakes! Thank you for all of your help!

Teresa