Do you want a chance to win an iPad? Lots of companies are giving away this hot item as prizes this year. Here is a good Twitter contest, not party, to get your feet wet with Twitter.
Need help figuring out Twitter?
Read these posts
How to Participate in TMG's May Giveaway
1. Follow @TMGofficial on Twitter.
2. Sent out this tweet:
"Follow @TMGofficial & retweet for a chance to win a free iPad. #TMGmayday
TMG May Twitter Giveaway Rules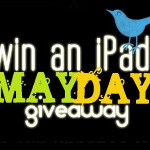 One entry will be given for becoming a fan of Tate Music Group Facebook Page. You must become a fan prior to 12:00am CST on June 1, 2010.
One entry will be given for following the Tate Music Group Twitter Page. You must be following @TMGofficial on Twitter at 12:00am CST on June 1, 2010.
One entry per day will be given for re-tweeting the link to the TMG website between May 1, 2010 and June 1, 2010—although you are welcome to tweet about the contest as much as you like.
You must include the Twitter hashtag #TMGmayday for your tweet to be eligible for entry.
Open to US & Canada residents only.
Contest closes at 12:00am CST on June 1, 2010.
Rules page: www.tatemusicgroup.com/ipadrules.html