@bookieboo Are you a fan of the Biggest Loser? I'm a HUGE fan. Join Mamavation, Subway and the Biggest Loser as we all watch the finale LIVE this Tuesday, May 25th from 8-10pm EST. But we aren't just celebrating the Biggest Loser Finale, we are also celebrating the official weigh-in of Shay Sorrells (@ShayBL).
Shay was the biggest girl to ever enter the Biggest Loser campus and last season she shed 172 lbs. She didn't win, but she inspired America and had a great deal more to lose, so Subway gave her a special challenge. For every pound she loses in between last season finale and this Tuesday night, Subway will match it with $1,000. So if she loses 100 lbs. she will take home $100,000. How much do you think she can lose?
We also have some special panelists in the health/fitness niche to join us for a lively chat and some fantastic giveaways, including an interview with Shay & Jared and Subway gift cards.
You say you don't know how to participate in a Twitter party. Here are some basic things to get you started.
Twitter Parties are simple and tons of fun – think of a group chat where all of your friends on Twitter can join in the discussion.  To spice things up, the more tweets you have during the Twitter Party, the greater chances you have of winning a great prize, including gift cards
1. Sign up for a Twitter account at www.twitter.com
2. During a party visit www.tweetchat.com or www.tweetgrid.com (you can use either one. The one you use depends on your personal preference. I use Tweet Chat)
3. Watch what everyone is saying at the party. You will learn what you need to do to win. Sometimes it is just chatting, other times it is answering a question from the host.
4. Learn to retweet and follow people. Here are some basic instructions I wrote on using Twitter.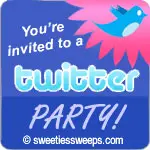 For Tweet Chat: login into your Twitter account with the button on the top right of the homepage. Then type the hashtag (party name) that will be used for the party.
For Tweet Grid: Make sure you on the Party tab and then fill in the hashtag, the Twitter user names of the party hosts, and your Twitter user name. If you don't know the Twitter user names of the hosts just leave that box blank.
What is a hashtag? It is the name of the party. Usually you will be # in front of the name. By using one of the sites above all you need to do is put the name of the party in and you will see all of the posts by everyone who is at the party.
About the Biggest Loser & Subway Twitter Party
Party Details
Date: Tuesday, May 25th, 2010
Time: 8pm – 10pm Eastern Time
Hashtag (Party name): #GOSHAY
Follow Make Sure to Follow our Panelists for the night:
You MUST RSVP and attend the party to win.
RSVP Here: www.mamavation.com/2010/05/go-shay-go-biggest-loser-finale-subway.html
Optional: You can tweet this message to get others to join in the party.
Join Biggest Loser Finale Party TUESDAY w/@SUBWAYfreshbuzz & support @ShayBL's weigh-in @ 8pm EST, http://bit.ly/cwj5Kh #GOSHAY
Extra Entries: TWEET LIKE MAD! Every time you tweet this message you get an extra entry. So tweet as many times as you want. There are no limits on how many entries you can have. Just make sure to come back and comment every time you tweet and include your twitter ID with each comment.
Prizes:
GRAND PRIZE: Interview with Shay & $50 Subway gift certificate (1 winner)
GRAND PRIZE: Interview with Jared & $50 Subway gift certificate (1 winner)
Gaiam Metro Gym Bag (1 winner)
iPod Shuffle w/ $10 iTunes gift card (1 winner)
Dicks Sporting Goods $50 gift card (1 winner)
$25 Subway gift certificate (4 winners)

Disclosure: this sweepstakes listing
may contain
an affiliate or tracking link but we
do not use referral links
. Read about our
policies
for more details.