@Barefootmomma is hosting a Twitter party with Star50 Handbags on May 18, 2010. Here are the details and instructions for how to participate in a Twitter party.
You say you don't know how to participate in a Twitter party. Here are some basic things to get you started.
Twitter Parties are simple and tons of fun – think of a group chat where all of your friends on Twitter can join in the discussion.  To spice things up, the more tweets you have during the Twitter Party, the greater chances you have of winning a great prize, including gift cards
1. Sign up for a Twitter account at www.twitter.com
2. During a party visit www.tweetchat.com or www.tweetgrid.com (you can use either one. The one you use depends on your personal preference. I use Tweet Chat)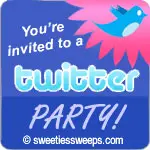 For Tweet Chat: login into your Twitter account with the button on the top right of the homepage. Then type the hashtag (party name) that will be used for the party.
For Tweet Grid: Make sure you on the Party tab and then fill in the hashtag, the Twitter user names of the party hosts, and your Twitter user name. If you don't know the Twitter user names of the hosts just leave that box blank.
What is a hashtag? It is the name of the party. Usually you will be # in front of the name. By using one of the sites above all you need to do is put the name of the party in and you will see all of the posts by everyone who is at the party.
3. Watch what everyone is saying at the party. You will learn what you need to do to win. Sometimes it is just chatting, other times it is answering a question from the host.
4. Learn to retweet and follow people. Here are some basic instructions I wrote on using Twitter.
About the Barefoot Momma / Star50 Handbags Twitter Party
Party Details
Date: Tuesday, May 18th, 2010
Time: 8pm – 9pm Central
Hashtag (Party name): #Star50Handbags
Party Host: @Star50Handbags and @BarefootMomma
How to win: Follow @Star50Handbags, @BarefootMomma, @BarefootAmanda and @BarefootCarrie and answer the questions they post during the hour.
You MUST RSVP and attend the party to win.
RSVP Here: www.linkytools.com/basic_list.aspx?id=27247. Then click the link at the bottom right that reads, Click here to enter. When the form appears put your Twitter name the large text box and then the link to your twitter page in the link box after the http:// and then click Enter your link.
Example: I would put sweetiessweeps and then www.twitter.com/sweetiessweeps
Optional: You can tweet this message to get others to join in the party.
TWEET! "Join Us! @BarefootMomma & @Star50Handbags TWITTER PARTY! 5/18 @ 8pm CST. RSVP http://bit.ly/acWl3u #Star50Handbags"
Prizes: Handbags from Star 50 Handbags
More Twitter Party details: www.barefootmommies.com/?p=8563
I'll see you at the party!