This is an index of the informative sweepstakes articles on Sweeties Sweeps. My goal is to teach, enlighten, and help you on your way to becoming a winner. If you are new to Sweeties Sweeps you will want to go here first to learn what this site is all about.
Dead links? Please report them to [email protected]
Just shoot me an email and if I think other people can benefit from the answer I will write a detailed article for it. If it pertains just to you I will respond to your email privately.
To read why I enter sweepstakes please read how to supplement your income with prize winnings
Are you having issues with sites that won't load or logging into the Secret site? It could be because you upgraded your browser. Read why you don't want to do this often in my article entitled, Using Multiple Browsers and Disabling Automatic Browser Updates to Solve Website Issues
Follow Sweeties Sweeps on Facebook for sweepstakes that are not posted on the site and other updates. If you aren't seeing the updates try this

Sweeties News and Articles
Winner Articles
General Sweepstakes Articles & Getting Started
Scams and Sweepstakes
Facebook Help
Pinterest Help
Twitter (Videos)
Winner Notifications
Blog Giveaways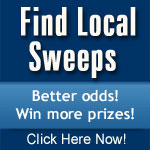 How to Win
Mail-in Sweepstakes
How To Articles

Instant Win Games
Organizing and Enter Sweeps Faster
For Businesses
Do you need help figuring out how to start a promotion or use Facebook to drive traffic? Read some of these articles.
Do you have a sweepstakes question you would like answered?